Vanilla Collagen Peptides Powder
Regular price
Sale price
$30.00
A premium blend of our best selling collagen and beauty boosting organic tremella mushroom promotes a more radiant complexion, hydrated skin, reduction in wrinkles, healthy hair & nails, stronger bones & joints and a happy gut. A rich and creamy taste makes this a delicious way to add collagen peptides to your daily routine.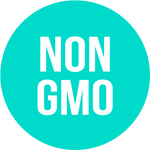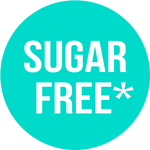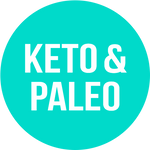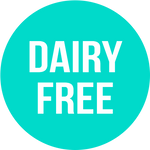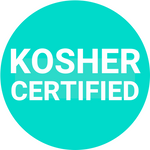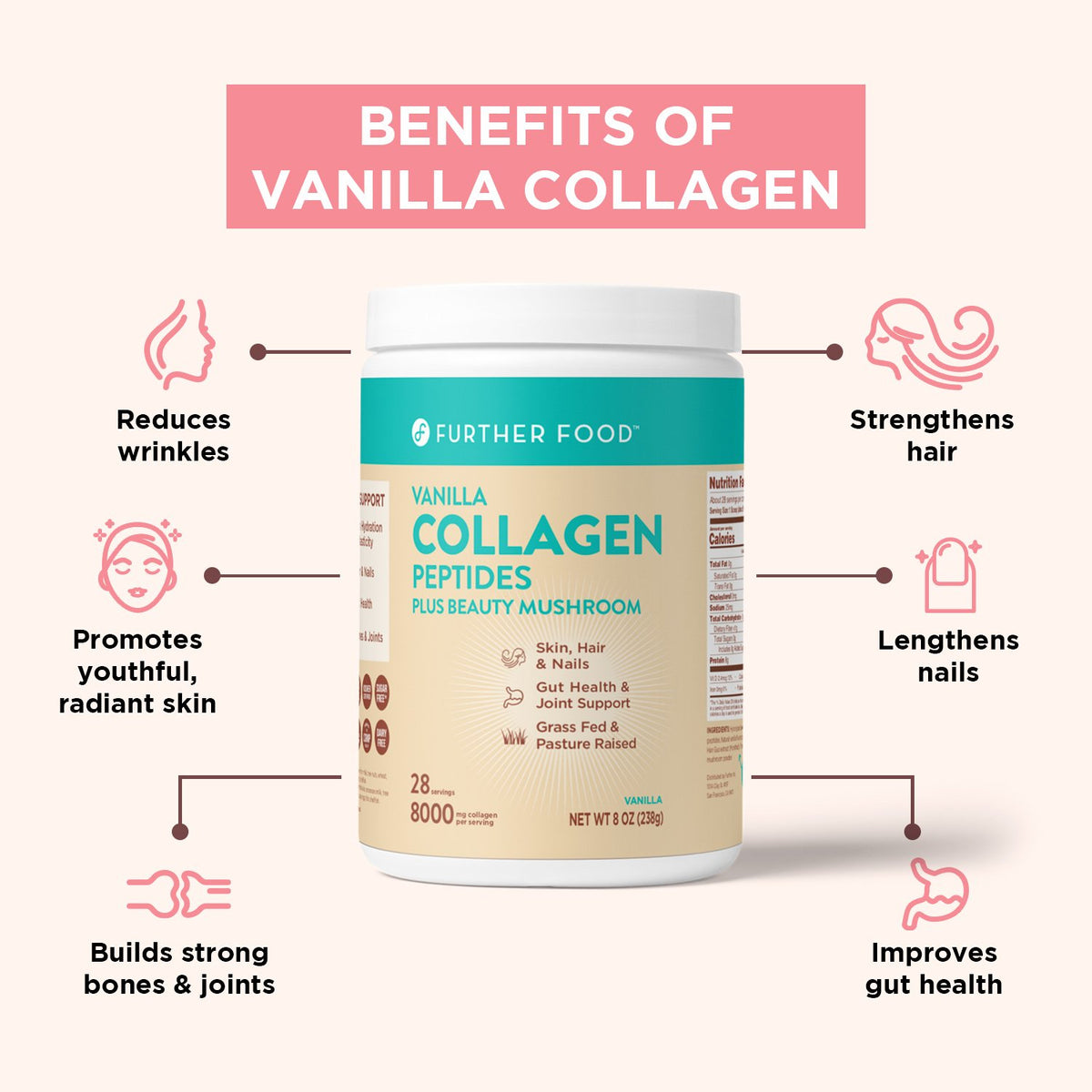 Why Choose Vanilla Collagen Powder
Collagen Peptides + Organic Tremella Mushroom deliver 2x the beauty benefits
8,000 mg of hydrolyzed grass-fed collagen peptides powder
Promotes flawless radiant skin, keeps skin hydrated & increases skin elasticity, naturally
Helps strengthen hair, nails, bones, joints & improves gut health +
Rich, elegant and dreamy taste. Think vanilla bean ice cream, but better
Packaged in 100% Post-Consumer Recycled jars
+ These statements have not been evaluated by the Food and Drug Administration.
This product is not intended to diagnose, treat, cure, or prevent any disease.
Translation missing: en.accessibility.collapsible_content_title
How to use our Vanilla Collagen Powder

Add 1-2 scoops daily to water or milk for a vanilla shake.
Mix in to coffee, tea, or baked goods for a delicious boost.
Enjoy any time of day!
Benefits of Collagen Peptide Supplements

COLLAGEN FOR SKIN, HAIR & NAILS: Daily use of collagen may reduce wrinkles, increase skin elasticity, and hide cellulite & stretch marks. Also supports stronger hair, nails & teeth. +
INCREASES FULLNESS: Collagen is 40% more satiating than whey, soy, or casein. Collagen can keep you feeling full, longer, helping to prevent cravings. +
GUT HEALTH: Collagen may help reduce gut inflammation & aid in digestion. The amino acids in collagen peptides help to repair the intestinal lining. +
COLLAGEN FOR HEALTHY JOINTS: Numerous studies show that collagen strengthens bones, joints & ligaments, in addition to helping reduce joint pain & stiffness. +
HEALTHY MUSCLES: Our Collagen Peptides contains 18 amino acids (8 essential). Collagen may help to maintain lean body mass and aid in muscle repair. +
What is tremella mushroom and what are the benefits?

Tremalla mushroom, also called the "beauty mushroom" has been used for centuries by Chinese royalty for their beauty and skin enhancing benefits. One of tremella's biggest fans was Yang Guifei of the Tang Dynasty, who was believed to be one of the most beautiful women in Chinese history - she's even considered as one of the "Four Great Beauties" in Chinese culture. When asked about her glowing skin and youthful complexion, she was reported to credit none other than tremella mushrooms! These beautifying mushrooms, which are also known as snow fungus and silver ear mushrooms, have been used in ancient chinese medicine as well as used in cooking for making soups and desserts. They have a mild taste yet slightly sweet taste that can complement any dish. 

Tremella mushroom is theultimate beauty mushroom. Tremella mushrooms can help to rejuvenate, moisturize and hydrate your skin, leading to a brighter complexion and more youthful appearance. Tremella mushroom is also high in Vitamin D, antioxidants, and minerals to deepen hydration. The vitamin D in particular is what gives tremella their skin boosting benefits, including helping skin cell growth as well as repairing and preventing premature skin aging. +Tremella mushrooms are loaded with polysaccharides that are potent antioxidants that can help prevent damage from free radicals as well as help to reduce inflammation. Tremella's powerful anti-inflammatory benefits have greater implications for their ability to fight off inflammatory diseases like heart disease, high cholesterol and tumors. If you think the benefits couldn't get any better, tremella can also support your immune system and help you manage your cholesterol! +
What is monkfruit?

Monkfruit, also known as lo han guo, has been used in traditional Chinese medicine for its antioxidant and anti-inflammatory properties. Today, monkfruit sweeteners have become popular as a natural, low glycemic and no carb alternative to traditional sugar or artificial sweeteners. 
How absorbable are collagen peptides in my body?

Further Food Collagen Peptides are short-chain amino acids and are highly bioavailable, meaning that the collagen is absorbed within a short amount of time. Research has shown that more than 90% of collagen is absorbed into the bloodstream within the first six hours after consumption.+ This means collagen can start working quickly to help restore and promote skin, bone, and joint health.
Is your collagen tested for heavy metals?

Quality assurance is our #1 priority. Our Collagen Peptides undergo extensive heavy metal testing to ensure that they meet all regulatory standards. Our facilities are cGMP certified, which is the highest quality certification for supplements.
Which types of Collagen are in Further Food Collagen Peptides?

Further Food Collagen is made up of Type I and III hydrolyzed collagen peptides. Type I and III are the most common types of collagen in the body and are the most important for supporting hair, skin, nails, bones, joints, and digestion.
How do I store it?

Store your Hazelnut Collagen Peptides at room temperature in a cool, dry environment.
Is your collagen kosher certified?

Yes. Our collagen is certified by Kosher Supervisory Services. If you have any questions about the certification process, you can contact Rabbi Noah Sheinkopf of Kosher Supervisory Services at rnsheinkopf@gmail.com
What are collagen side effects?

No known side effects have been reported. We recommend taking collagen with food to prevent any intestinal discomfort that may occur.
How long will it be before I see results, and how long will the results last?

Collagen begins restoring and repairing skin, bones, joints, ligaments and your gut immediately.+ Clinical trials have shown visible improvements after four to twelve weeks of supplementation, depending on the study and the benefit being measured. However, one should take collagen peptides indefinitely to combat aging because our body produces less and less collagen every year. Supplementing with collagen is not a temporary fix, it's a lifelong dedication to better health from the inside out.
Your package now says Vanilla flavored with other natural flavors. Why the change?

We've updated the ingredient label and front of pack to more transparently reflect what goes into the vanilla flavor. Our vanilla flavor is sourced from Madagascar Bourbon Vanilla Beans and we use natural flavors sourced from plant extracts to round out the vanilla flavor.
Purity Tested

We conduct rigorous ingredient testing for contaminants and impurities.

Independently Lab Verified

Consistently 3rd party tested for quality, potency and purity to give the most in every bottle.

Good Manufacturing Certified

Our manufacturing facilities are cGMP Certified because safety and quality come first.
Translation missing: en.accessibility.collapsible_content_title
Our decadent Further Food vanilla collagen peptides are made with tremella mushroom and vanilla to create a rich and creamy vanilla collagen flavor profile that you will love. LEARN MORE +

This spice can be used as an ingredient for ice cream flavor, used in baked goods, blended into milkshakes, and can also be found as a classic vanilla collagen powder from Further Food! The Further Food vanilla collagen has all the benefits of our collagen peptides with the extra dazzle of vanilla flavor.

The human body begins to slow its collagen production beginning at the early age of 20. From there, it will continue to decline as you age. Enter: vanilla collagen peptides. Vanilla collagen is a great way to supplement your body's intake of collagen.

Popular ways of using this product are by baking into goods, blending into a shake, stirring into coffees, and more! Supplementing your diet with healthy collagen has never tasted better!Get the flavors, richness, and healthy benefits of our Further Food collagen today!